Family salon in Secunderabad
Charms Beauty Salon is known as the best unisex salon in Patny & Diamond Point areas of Secunderabad because of the fact that we update ourselves with the trend around the world of beauty for hairstyling, makeup, Bridal Makeup, Keratin treatments & affordable Hair patch services.

Hair Cutting in Secunderabad
Get a new look by our professionals to say goodbye to all the bad hair days. From Simple to Crazy styles, we've it all.
Shaving For Men in Secunderabad
Donning a clean shave look can never go out of style! Get all the unnecessary facial hair out only at Charms Salon.

Men & Women Hair Styles in Secunderabad
Straight Sleek hair or Beach Waves, confused on which suits you best? We have all the answers to your hairstyle.
Trimming & Styling Salon Services
Maintaining a stubble or beard is quite a hard task. So, don't worry because trimming it to perfection is our job.

Hair & Skin Treatments in Secunderabad
A perfect massage at the spa is a perfect way to relax. We all require some personal care and attention for well-being.

Hair Coloring for Men & Women-Secunderabad
Make a statement with the new shade of hair. Coloring is an art, and we excel in it with our techniques.

Ladies Waxing Service in Secunderabad
Perfect skin isn't a myth anymore. Get soft, smooth skin by waxing without any burns and be flawless.
Keratin Treatment in Secunderabad
Keratin treatment at charms provided at very affordable cost including in list of salon services in Secunderabad.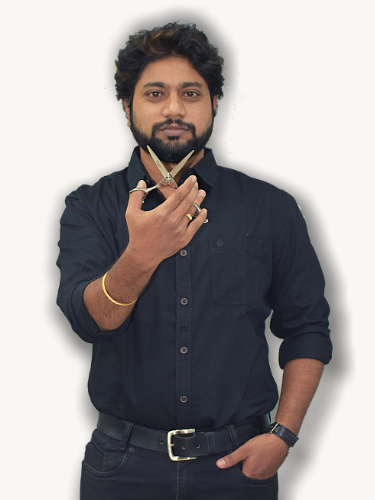 Affordable Salon Services in
Secunderabad
Charms Beauty Salon is named as Best Unisex Salon in Secunderabad. Our team is professionally trained to provide you the best service in Hair, Makeup, Spa, Keratin & Hair patch. We have developed the art and techniques like nobody else! A perfect hair & beauty service can make you
Wednesday
7:30 AM - 10:30 PM​
Thursday
7:30 AM - 10:30 PM​
Friday
7:30 AM - 10:30 PM​
Saturday
7:30 AM - 10:30 PM​
Learn Hair & Makeup in Secunderabad.
Know More About Charms Academy